Show all

Modell des menschlichen Gehirns [Heinemann]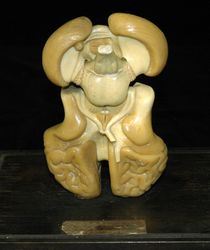 General
| | |
| --- | --- |
| Object Name | Modell des menschlichen Gehirns [Heinemann] |
| Individual Model/Group/Series | Single Model |
| Type of Model | Models of Creatures and Biological Systems |
| Last Update | März 2011 |
| | |
Formal Description
| | |
| --- | --- |
| Material | Wax |
| Static/Movable | Immobile |
| Dismountable | Non Dismountable |
| | |
Description of the Content
Academic Discipline
Anatomy · Human Medicine · Medicine · Neurosciences
Intended Use
Teaching Object
Year of Production
Mitte 19. Jh.
Place of Production
Braunschweig
Producer/Distributor of
Technical Object
Further Information
Das Modell zeigt u.a. die Sehbahnen, den Hirnstamm und das Mittelhirn in der Ansicht von dorsal. Es wurde von C.F.H. Heinemann, "Verfertiger anatomischer Präparate in Wachs am herzogl. anat. Chirurg. Inst. zu Braunschweig" erstellt.
Reference Object
| | |
| --- | --- |
| Reference Object | Menschliches Gehirn |
| Biological Taxa | Human |
| Body Part / Organ | Brain |
| Organic System | Nervous System |
| | |
Reference Collections
Anatomische Sammlung, Universität Heidelberg ·
Details