Show all

Modell der Frucht einer Hybriden zwischen Citrus sinensis und Citrus reticulata (Clementine) (6 x 6 x 6 cm)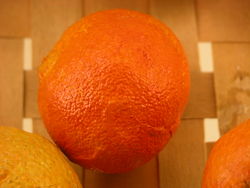 General
| | |
| --- | --- |
| Object Name | Modell der Frucht einer Hybriden zwischen Citrus sinensis und Citrus reticulata (Clementine) (6 x 6 x 6 cm) |
| Individual Model/Group/Series | Single Model |
| Type of Model | Models of Creatures and Biological Systems |
| Last Update | November 2011 |
| | |
Formal Description
| | |
| --- | --- |
| Size (Width, Height, Depth) | 6 x 6 x 6 cm |
| Material | Gypsum |
| Manufacture Technique | Handcraft |
| Single/Multiple Manufacture | Individual Production |
| Static/Movable | Immobile |
| Dismountable | Non Dismountable |
| | |
Description of the Content
Academic Discipline
Biology · Botany
Intended Use
Exposition Object · Teaching Object
Year of Production
1960er Jahre
Place of Production
Berlin
Producer/Distributor of
Technical Object
Further Information
Modell einer Clementine, bemalt, rund, orange glänzend, mit zahlreichen Öldrüsen, die als winzige Dellen in der Oberfläche erscheinen. Das Modell ist auf der Rückseite mit einem Haken aus Draht versehen und liegt auf beziehungsweise hängt an einer geformten Bastmatte, die mit einer Schraube an der Hauptplatte befestigt ist. - Beschriftung: MANDARINE Citrus reticulata - Herstellungsverfahren: Gips geformt, bemalt.
Reference Object
| | |
| --- | --- |
| Reference Object | Frucht einer Hybriden zwischen Citrus sinensis und Citrus reticulata (Clementine) |
| Biological Taxa | Eudicots |
| Body Part / Organ | Propagule |
| Organic System | Reproductive System |
| External Links | |
| | |
Reference Collections
Botanisches Museum Berlin, Freie Universität Berlin ·
Details