Show all

Moulage, Soor (Kindergesicht frontal mit offenem Mund und Halsansatz)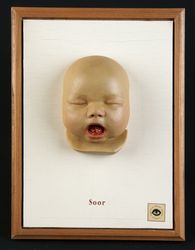 General
| | |
| --- | --- |
| Object Name | Moulage, Soor (Kindergesicht frontal mit offenem Mund und Halsansatz) |
| Individual Model/Group/Series | Single Model |
| Type of Model | Models of Creatures and Biological Systems |
| Last Update | Dezember 2011 |
| | |
Formal Description
| | |
| --- | --- |
| Scale | Original Size |
| Size (Width, Height, Depth) | 34 x 11 x 26 cm |
| Material | Wood · Textile · Wax |
| Manufacture Technique | Handcraft |
| Static/Movable | Immobile |
| Dismountable | Non Dismountable |
| | |
Description of the Content
Academic Discipline
Dermatology · Human Medicine · Microbiology
Intended Use
Teaching Object
Year of Production
1950er Jahre
Place of Production
Dresden
Producer/Distributor of
Technical Object
Further Information
Auf Vorderseite markiert mit Aufkleber des Deutschen Hygiene-Museums Dresden, auf Rückseite nummeriert in blauer Farbe: 969 / V1296, sowie markiert durch blauen Stempel: Hygienisches Institut der Med. Akademie Erfurt Direktor Prof. Dr. H. J. Otte.
Reference Object
Reference Object
Soor (Kindergesicht frontal mit offenem Mund und Halsansatz)
Biological Taxa
Human
Body Part / Organ
Face
Organic System
Sensoric System
Classification according to ICD-10
A00- B99 Certain infectious and parasitic diseases
External Links
Reference Object
Description / Abstract
Pilzerkrankung
Reference Collections
Moulagensammlung Peter Wutzler, Charité - Universitätsmedizin Berlin ·
Details
Collection
Moulagensammlung Peter Wutzler, Charité - Universitätsmedizin Berlin
Current Location
Als Dauerleihgabe an das Berliner Medizinhistorische Museum (BMM) der Charité, Humboldt-Universität zu Berlin
Special Status
*No Longer at University
Inventory Number
BMM 2011/ M98
Restoration rsp.
Conservation Condition
Klebung des Glassturzes mit grauem Gewebeband, leichte Ablösung (vor allem an den unteren Ecken). Glassturz abnehmbar. Insgesamt leichte Verschmutzungen, leichte Gebrauchsspuren.